Our skin care recommendations for sensitive skin
Skin appearance:
higher sensitivity to irritating materials
certain ingredients in cosmetics cause skin irritations, redness and a feeling of tension
increased sensitivity to UV radiation
is often alipoid and dry, the skin barrier layer is damaged
Affected persons / measures:
babies and young children, increasing number of adults
carefully pay attention to what kind of treatments and ingredients the skin is sesnsitive and consequently avoid these ingredients
To prevent from skin problems, consequent care is needed from youth.
General information:
Children's skin is often sensitive and delicate because the skin's natural protective system must first develop in the first years of life. However, skin remains more often sensitive in adult age, meaning it reacts with irritations and redness to certain ingredients in cosmetics or also in detergents.
For affected persons it is important to find out to which treatments or ingredients their skin reacts sensitively. They should consequently avoid these substances as far as possible.

Sensitive and delicate skin should be regularly cared for. BIOTURM offers care products which are especially adapted to take care of sensitive skin.
For cleansing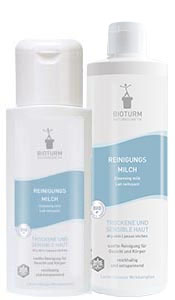 Mild cleaning for sensitive skin and therapy-related care in case of neurodermatitis and psoriasis.
The mild bath and shower gel for daily use in case of dry and sensitive skin.
In case of dry and small dandruff - helps to regenerate dry, itchy and sensitive scalp.
For skin care: